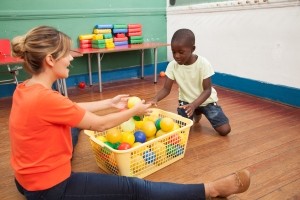 When creating an educational program for students with ASD, each student's unique characteristics present unique challenges for administrators and school support staff. An effective classroom must include a physical structure that enhances learning opportunities and instructional approaches that facilitate learning, language acquisition, behavior management, social skills, and academic goals. We can apply many of the basic principles of effective instruction that are used in within the general education classroom as we work with students with autism and Asperger Syndrome, however, there are certain strategies that have been proven to be particularly effective. These strategies provide structure and predictability to the learning process, allow students to anticipate task requirements and setting expectations, and teach a variety of skills across content areas in the natural environment, enhancing the likelihood of generalization.
Predictability and sameness are significant factors throughout student's daily lives. One way to address these elements in the classroom is with "Environmental Supports". Environmental supports help students organize the physical space in ways that help our students predict any changes in their daily routines or deviations from typical expectations that may take place during the school day; different activities or events, a substitute teacher, or fire drills. We can help students understand expectations, and in general, make sense of their entire environment. Researchers have defined environmental support as "aspects of the environment, other than interactions with people, which affect the learning that takes place". Examples of environmental supports are: Labels, Boundary settings, Visual schedules, Behavioral-based education tools, Activity completion signals, Choice boards, and Waiting supports.
All of these environmental support strategies are a simple yet effective way to help a student respond appropriately in their day-to-day activities throughout their school day. Environmental supports can be effectively utilized across all environments and all settings to help support individual with ASD. Additionally, environment supports have been shown to increase student independence, and help stimulate language.
The physical organization of the classroom can be a crucial element for them enhancing success. Structure and predictability facilitate the students understanding of the environment, which can help decrease worry or agitation the student might have. This is really important for students with autism who tend to react negatively or really that difficult time with changes and unsent uncertainty in their environment. Something as simple as labeling furniture and objects in a classroom can have numerous benefits for students with autism; label boxes or containers with visual representations such as icons or hand-written labels. Students can then be taught to match the label on the container to the label on the shelf, allowing independents in retrieving or returning an activity to its appropriate place in the classroom.
Again, we want to emphasize that each student is unique and the strategies used need to reflect their unique needs.
Was this helpful?
Let us know if you liked the post. That's the only way we can improve.
https://leafwingcenter.org/wp-content/uploads/2019/09/28.-Some-Considerations-And-Strategies-For-Students-With-Autism-In-Classroom-Settings-1-e1567751192870.jpg
808
920
LeafWing Center
https://leafwingcenter.org/wp-content/uploads/2018/02/lw_logo-web-2-e1519784827391.png
LeafWing Center
2019-09-03 03:00:58
2019-09-27 16:34:37
Some Considerations and Strategies for Students with Autism in Classroom Settings